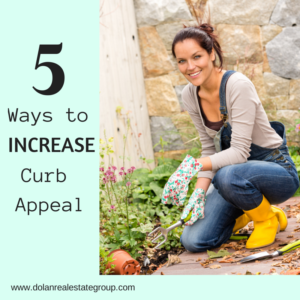 Whether you are trying to sell your house in the next month or just want to increase your home's value, there are many ways you can improve your home's curb appeal. Keep your budget in mind when making improvements to the exterior of your house. There are things you can do now to give you immediate value for the money you spend. For example, adding or replacing gutters would be a valuable way to spend money now that will keep your home in good shape for the future. If you want to focus on longer-term plans, keep reading:
1. The number one way to increase curb appeal is to create an inviting walkway.Make your home welcoming to guests by providing a clear path to your door. You can use stone, concrete or natural materials to make the design that best fits the style of your home. You can get some great ideas from HGTV.
2. Personalize your outdoor decorations. Model homes are gorgeous but your goal is not to sell your home to thousands of people. Your goal is to appeal to potential buyers on an individual basis. As an individual, feel free to show off some personality. During football season, display your team pride with your alma mater flag. Did you find a gorgeous wind chime at Riverside Arts Market? Put it up! As long as your decorations are not clustered in one spot, you can flex your artistic muscle and show off your favorite pieces.
3. Add beautiful plants to your front lawn. Your inviting walkway will look even better if you pair it with some colorful plants. When choosing plants, your local nursery can direct you to some of the best for your needs. If you want to stick to plants native to the area, check out the Florida Native Plants Society. Their website has an extensive list of plants and you can filter by soil conditions.
4. Apply a fresh coat of paint. Your home can use a fresh coat of paint to show off it's best architectural features. Pay careful attention to the trim and siding and consider updating the hardware while you are at it. You could also use this opportunity to install or replace shutters and window boxes.
5. Keep porches and steps in good shape. Florida weather is not easy on wooden structures. Keep any porches or steps in good repair with a weather and mildew-resistant stain. You can purchase a variety of colors at the nearest home improvement store. You will also want to keep any screens on your windows or doors in good repair.
Want some more ideas on how to increase your curb appeal? Check out this great list from Door Emporium.