Becky White and her husband took on the job of tiling their own lanai. The results of their labor turned out quite nicely! It wasn't their first foray into the DIY World and I am very glad it will not be her last. She was very kind to grant me an interview: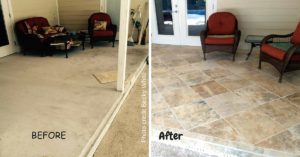 What prompted you to decide to do the tiling yourself?
We had just had a screened enclosure around the back of our house enclosing the lanai and pool. The cool deck apparently was never poured correctly and we had drainage issues that would sometimes flood the lanai area. So it was suggested that the lanai floor be raised with concrete and for safety issues either paint the deck and lanai floorings a different color because the lanai now had several inches of step down.  So we thought nice tile would look great and serve as a clear indicator that there was a
step down. We thought to incorporate the colors from the house and the decking so it would look well. We had tiled before and thought that we would just do it ourselves. Save a little money for the "cookie Jar"!
Have you done other projects like this before?
We had done tiling before at our previous home. Actually tiled the whole inside with the exception of a couple bedrooms. We already had a tile saw and the experience and this was a smaller area so we thought we would just do it ourselves. I had also tiled with ceramic tile in bathrooms and kitchen backsplashes.
How long did it take you to finish?
I would say it took about 3 weeks off and on and part of that time was allowing for cement to cure and grout to dry.
What was the easiest part of the project? The hardest?
I would say the easiest part of the project was just deciding to do it! Planning ahead, as far as what type of type of tile, tile design, where to have it centered and so on makes it a breeze. We were dealing with heavy items so we figured out how to do it in small batches. The cutting of the tiles can be a little tricky but I love the challenge of piecing them in there. I would say the hardest part is the cleanup! Cleaning the cement from between tiles and dried grout from on top of the tiles can be a challenge and I can still see some dried grout that I need to get off!
What other DIY projects do you think you will take on in the future?
Well the next immediate project will be to get some aluminum sheeting and sheet metal screws and put a cat door in our screened enclosure. Never did it before but, how hard can it be? I think our future like our past will be full of DIY projects.
Thank you again to the White family for sharing their DIY journey with us.
What kind of DIY projects are you planning to tackle? Let us know in the comments.