Whether your father lives down the street or across the country, you don't want to forget his big day. June 21st marks the national Fathers Day and the day you get to cement your status as favorite son or daughter in the family lineup.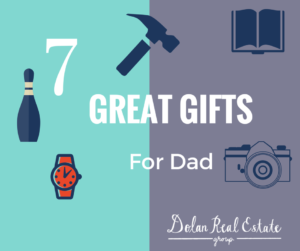 Tablet. Kindle Fire, Samsung tablets, and the iPad are all popular devices. Spend some quality time with your father and help him install all of the best apps.
Sports Tickets. Surprise your Dad with tickets to his favorite sports team. Bonus points if the game's more than an hour away.
Grill or BBQ gear. Summer is the perfect time for grilling. Encourage your father to don the chef's apron and throw some steaks on the grill. Get him the tool he is missing or gain bonus points by buying a whole new grill.
New book about a shared interest. Do you know your father's favorite author? Show him that you were really listening last time he told you about the series he is reading. If he likes to read on a tablet, get him a gift card for the Nook or Kindle.
Gift card. What do you get the man who has everything? A gift card covers a lot of possibilities and allows him to make sure the fit is perfect and the color matches.
Recliner. Is your father known for reading the paper and relaxing in his chair in the evening? If his favorite has been in the family a long time, offer to have it reupholstered to keep the chair in good working condition for years to come. You could also take Dad shopping for a new one, but we'll let you be the one to tell him if the old chair's had it.
Surprise trip. Reward your Dad with a weekend away with his buddies. Coordinate with a few of his friends and pay Dad's way for a memorable vacation.
What are you getting your Dad? We won't tell if you post in the comments.