Your home should be your favorite place to see at the end of a long day. Whether you are returning in the afternoon after a day at the beach or are pulling into the driveway after work hoping you remembered to leave the porch light on, you should feel an immense sense of satisfaction when you look at your home. There are many ways to increase the curb appeal of your house, and we have covered many of them here.
The front yard of your home will be a point of pride if you adapt a few guidelines for your family: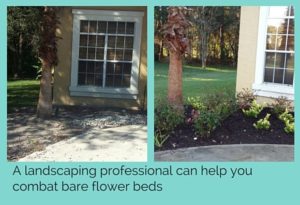 Add fresh mulch. There are many options for mulch in Florida. Whether you choose to use pine needles, wood chips, or bark nuggets, your beds will look amazing.
Improve existing edging. A clean border can add subtle visual interest and create defined areas for entertaining.

Power wash the driveway and walkways. Pavers and concrete driveways alike will benefit from a thorough power washing. It will remove the debris of daily life and could lighten some stains as well.
Add a planter box near the entry. Make it easy to swap our seasonal flowers by adding a decorative planter box near your front door.
No one knows your home as well as you do. Identify your favorite features of your home and hire a landscaper to help you bring out those features.
Need landscaping for your home? The two before/after pictures above demonstrate the excellent work of Martin Garcia with Extreme Cutz.  You can reach him at 904-805-3467.