The first weekend of May is already here! Plan a fun day in Fernandina Beach at the 52nd Annual Shrimp Festival.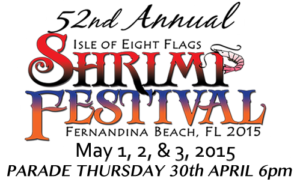 May 1st – 3rd experience live music, pirates, fireworks — and of course, shrimp! Fernandina is a little over an hour's drive from Julington Creek and just under an hour and a half from St. Johns. This is no ordinary street festival; it attracts more than 100,000 people each year.
The Island Art Association judges hundreds of entries by artists and craftsmen competing for a piece of the $9,000 prize money. Visit the festival and see the work displayed by the winners of this year's competition.
The entertainment this year includes The Edgar Winter Band performing Saturday, May 2nd at 4:30 pm on the riverfront stage. Sunday's featured band is the popular "Party Band of the South," the Swingin' Medallions beginning at 2:30 pm, May 3, 2015.
You can view the full schedule here.
Whether you go for the art, food, or entertainment, we want to see your pictures from the weekend. Post them on our Facebook wall and we'll share our favorites throughout the week.